To set up your SMTP server, you may need a member of your IT staff. You will need to know the SMTP Server, the port number (if applicable), whether or not you have a secure connection (SSL or TLS) and the username/password associated with the email address you are setting up.
Once you have this information, you would do the following: Wolters Kluwer logo=> Administrative Tasks=> Portal/Workflow=> Global Email Settings). You will select the "Specify A Server" option within the "Email/Server Settings" box. Once you have all the data entered into the appropriate fields, you should click on "Save Settings"at the bottom of the screen to save the changes you have made.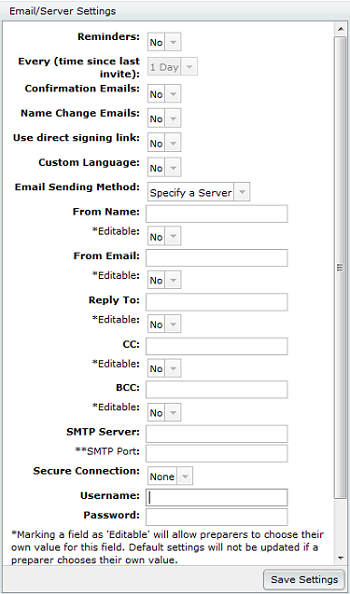 To send yourself a test email, click on the "Edit" link within the "Select an Email to Edit" box for the "Invite Signers" or "Standard Portal" email. If you receive a message that your settings were saved and an email was sent, and you receive the test email, you have successfully set up your server.