Here are the steps you will need to complete to upload data into your Form 8955-SSA: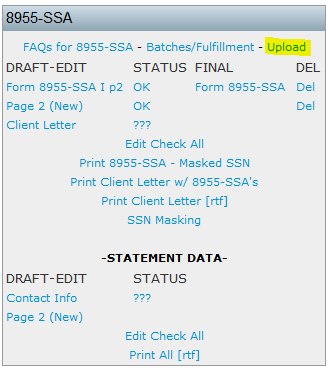 From the "Form 5500-Year" screen, within the "8955-SSA" box, click on "Upload."
Select either "Page 1 CSV Upload" or "Participant CSV Upload" to continue (Note: You will not be able to select "Participant CSV Upload" until you have added a Form 8955-SSA to the plan).
Depending on which option you selected, download the sample file provided and save the file to your computer.
Go to the saved sample file on your computer and complete the spreadsheet with the necessary data/information.
Save the updated sample file to your computer
Return to the upload screen for either your Page 1 or Participant information.
Browse for your file.
Enter the number of rows to ignore before the header row (Note: If you do not have any rows entered above the column header, leave the default number as -0-; you do not want to ignore the column header row when uploading your data).
If you are completing the Participant Data upload, you will want to ensure you enter the "Number of rows containing data" prior to uploading your spreadsheet.
Click "Submit."
Repeat these steps for uploading either the Form or Participant Data.
Once you return to the "Form 5500-Year" screen, your Form/Participant Data (Depending on what you uploaded) should be displayed.
Further information is found in the 5500 User Guide, by clicking here.