Please click here for a demonstration of this process.
1. Click on "Work with Signers/Portal Users" from the "Form 5500-Year" screen within the "Portal Menu" box.

2. Your client's name will already be selected (if you have more than one signer for the filing, you will need to select him/her from the drop-down list).
3. Once your signer's profile is visible, select the "User Info" tab on the left-hand side of the window (the "5500" tab will be selected by default).
4. Click on "Reset Password" within the "Password" field.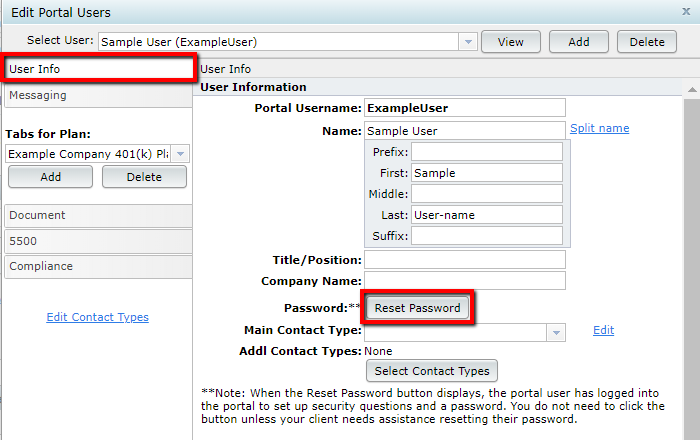 5. On the "Reset Portal User Password" dialog, click on "Reset Password".
6. Clicking on "Reset Password" will send an e-mail to your client from a "
donotreply@ftwilliam.com"
address. The e-mail will contain a link for your client to follow, which will log him/her into the Portal and he/she will be prompted to enter a new password.
Note: if you reset the password for your client by following the steps listed above, your client will not need to answer his/her challenge questions and answers.