The Clone Plan feature can be used when you would like to add a plan that is identical or similar as an already existing plan on your account. Cloning a plan will copy the checklist type and all checklist answers of the original checklist to a company that you designate. Below are the steps to clone a plan on your account.
If the plan will be added to a new company, you will first need to add the company to your account.
Go to the Edit Plan page of the plan you wish to clone from.
Click on the Clone Plan link located under the Plan Menu.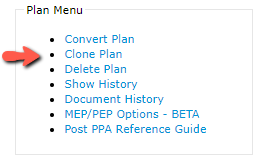 On the next page choose the company to which you want to clone the plan to from the drop-down list.
Click on the Clone Plan button.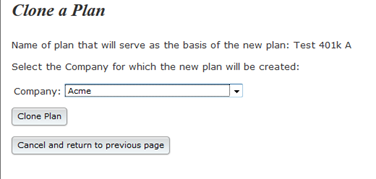 The plan you just added will have the cloned plan's name preceded by "Created from". You can re-name the plan name as applicable in Section A.(Plan Name) and review the Edit Plan Checklist to verify the plan's provisions and made any necessary adjustments.