Direct Link allows users to send a link to a client to file their 5500 without having to log in to the Portal. The "Use Direct Signing Link" option would first need to be enabled from within the Global email settings. Please know that this is a global setting that will impact all plans and users within the account.
To enable this option, select the Wolters Kluwer Logo> Administrative Tasks> Portal/Workflow>Global Email settings> 5500's tab. From here, alter the drop-down to yes for the field labeled "Use Direct Signing Link" as shown below. Ensure to select the "Save Tab" button at the bottom of the screen: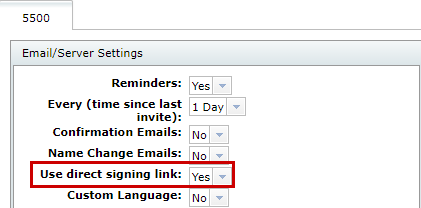 It is also suggested that a new email template be created, as the default invitation template notes for users to log in using specific credentials.
Click the hyperlink provided to redirect to the FTW user guide, Section 3.6 Editing or Cloning Email Templates. Whichever template is created or altered, ensure the !@!loginlink placeholder is included, as this is what will direct the user to the signing page.
Once a portal user has been added to the plan, and the filing is ready to be completed, select the "Invite to Sign" option from within the 5500 Module.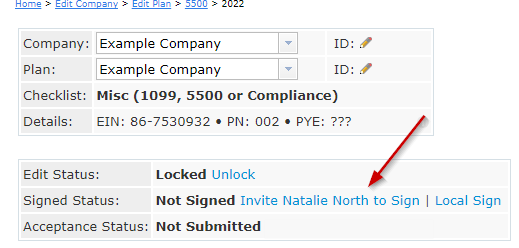 A preview of the email may be seen, by selecting the "Preview" hyperlink as shown below: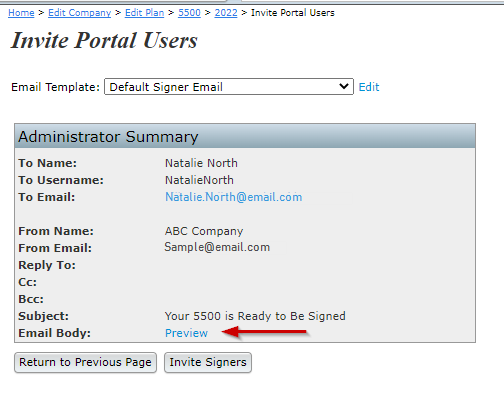 Once sent, the user will receive an email like the communication sample provided below. The link will send the user directly to the ftwilliam.com portal 5500 signing page.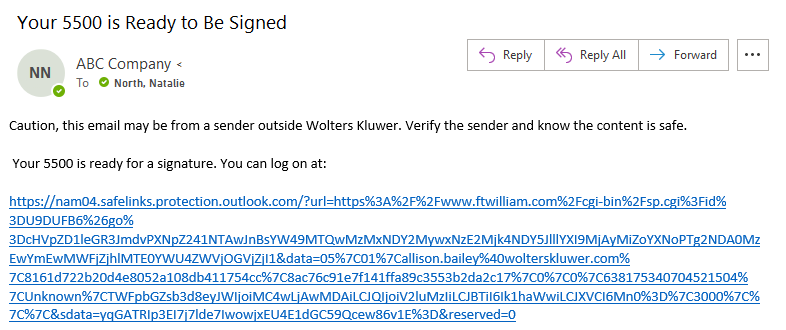 The user will be able to print the 5500, enter their DOL credentials, and sign the 5500 without having to enter any additional login credentials for the ftwilliam.com portal: