Here are the steps needed to complete a Local Sign:
1. Maintain a copy of the E-Signing Authorization signed by your client for your records (a statement signed by your client giving you permission to sign on his/her behalf) (The "E-Signing Authorization" is found within the "Attachments" box on the right-hand side of the "Form 5500-Year" screen). Note: this authorization is NOT attached to the filing; you will need to maintain this in your own records.
2. Manually enter your client's name onto the draft Form 5500/SF in the "Enter name of individual signing as plan administrator" line.
3. Type the date of signature onto the draft Form 5500/SF. This date should be in MM/DD/YYYY format and be the date your client wrote on the copy of the Form 5500/SF he/she signed.
4. Make sure all of your forms/schedules have passed the edit checks and that you have addressed all errors/warnings. You may click on "Edit Check All 5500 Schedules" on the "Form 5500-Year" screen which will provide you with a list of all the error/warning messages for your forms/schedules.
5. Attach the manually signed copy of Form 5500/SF to the filing as a PDF. You will need to click on "Attachments" below the draft Form 5500/SF in the "Draft-Edit" column. You will then need to select the "Manually Signed Form 5500" attachment type, browse for your file and click "Add Attachment."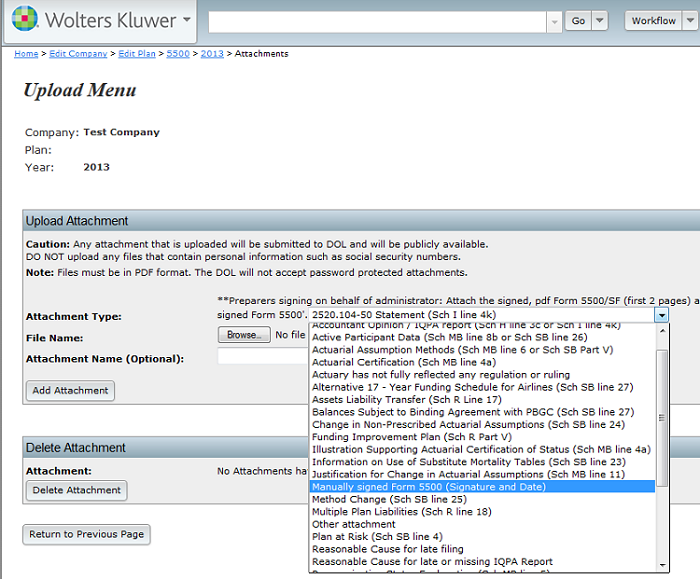 6. After adding all of the necessary attachments under their respective attachment types, you will need to return to the "Form 5500-Year" screen.
7. You will need to click on "Lock" on the "Edit Status" line to lock the filing.


8. Click on "Local Sign" on the "Signed Status" line.


9. You will need to select "Preparer on Behalf of Administrator" as to whom you are signing as.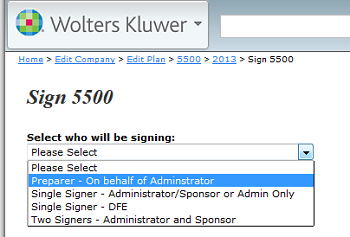 10. Enter your name as the name of the person signing. Note: your name will not display with the filing on the DOL's website.
11. Enter your DOL User ID and PIN.
12. Click on "Sign 5500."
13. You will receive a status from the DOL. You may print this screen or return to the "Form 5500-Year" screen and click on "Details" on the "Acceptance Status" line to review the status of the filing, the ACKID, etc.
Please click here to view a demonstration of these procedures.
0
0
Was this article helpful?
0 out of 0 found this helpful